Here you'll find the most popular, highest-rated tyre inflator sold by Halfords UK. This list includes digital and analogue models, as well as a manual option, so you're sure to find a model that suits your inflation needs and preferences. Read on to find the perfect tyre inflator for you.
An under-inflated tyre can be a great inconvenience. It makes for a bumpy ride, increases the wear on your tyres, and can even cost you a fine and points on your license, if you're unlucky. A tyre at optimal pressure, on the other hand, will improve your car's road grip and brake performance, will lower fuel consumption, and make your ride generally safer, more comfortable, and more efficient.
With all new cars fitted with pressure indicators, keeping track of your tyre pressure is easier than ever. By having a tyre inflator on hand, you can maintain that optimum pressure in your tyres, and ensure that a flat won't mean the end of your trip.
Below we will discuss the most popular tyre inflators available at Halfords.
Twin Barrel Foot Pump and Gauge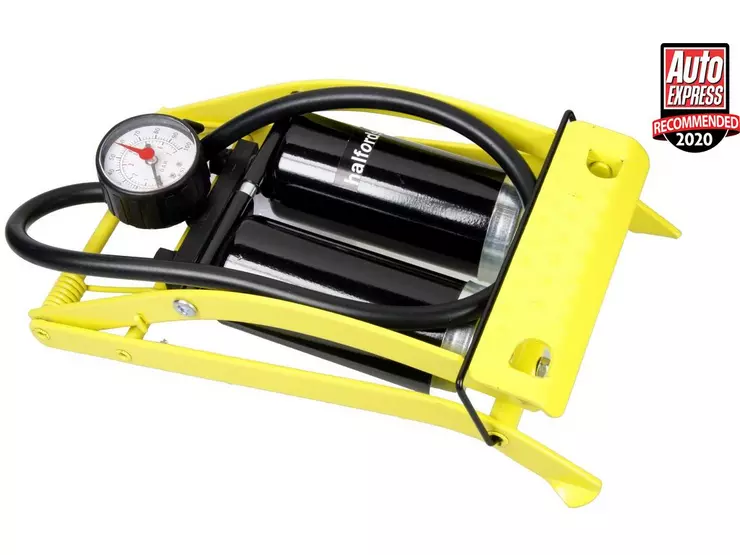 A simple yet sturdy and reliable device, this foot pump by Halfords Essentials is among the highest-rated models offered by the company, and for good reason. With a robust frame and a heavy duty hose, this pump is built to last. It comes fitted with a pressure gauge for accuracy, and twin barrels for faster inflation. Going up to 100psi, and with a thumb-lock valve connector that fits all cars, motorcycles, and bicycles with Schrader valves, this foot pump will get virtually any inflation job done.
Customers appreciated the reliability, efficiency, durability, and compactness of this model. At a mere £12.99 (the cheapest on this list!) this foot pump is a solid addition to any garage or car emergency kit.
Analogue Tyre Inflator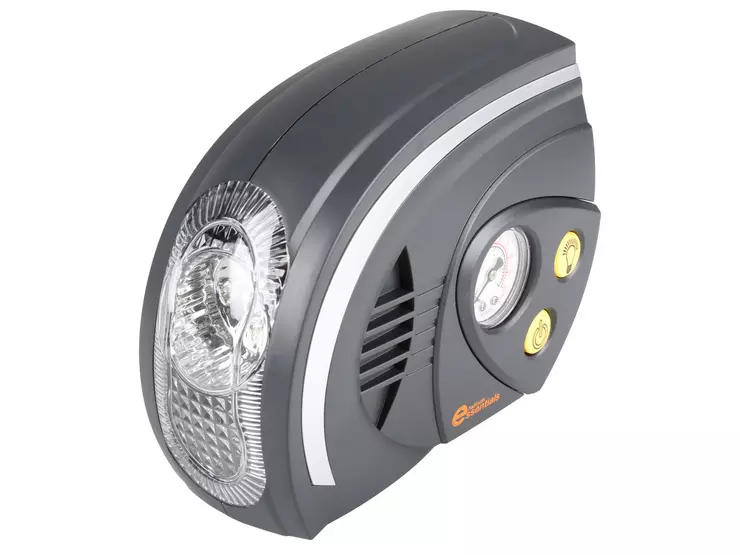 If you prefer your inflator to do your work for you, then this electric inflator by Halfords Essentials is an excellent option. Powered from your car's cigarette plug, this inflator comes with an LED power indicator and an easy to read pressure gauge. Also included is a torch element for inflating after dark, and a set of adaptors to fit a large variety of inflatable items. Going up to 100psi, this inflator is also great for motorcycles and most bicycles. Its 60cm hose and 3m cable make it easier to reach all four wheels on your car, and at 0.75kg this tyre inflator is lightweight and easy to handle.
The best-reviewed aspect of this model is its ease of use – this inflator is as straightforward as they get. Also appreciated were its light weight and compactness, and relative efficiency. While not as fast as other models (taking 6 minutes to fully inflate a car tyre), at £19.99 this model provides great value for money.
Rapid Digital Tyre Inflator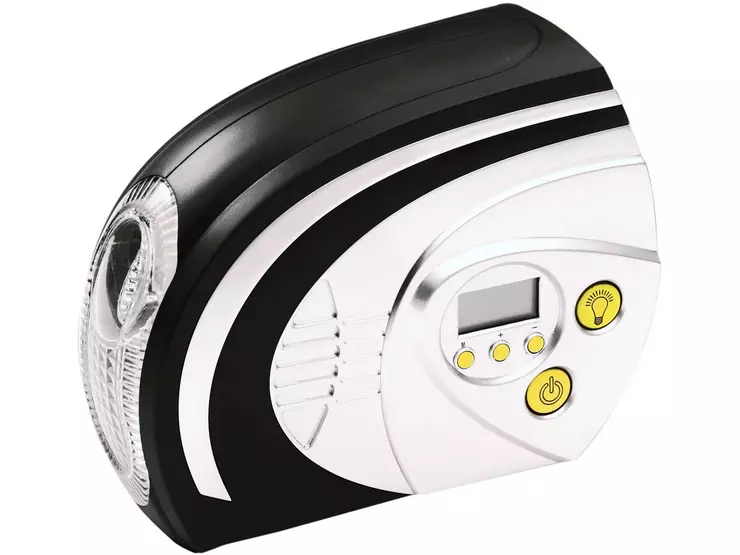 Incredibly fast, and with a range of handy features, it's easy to see why this best-selling tyre inflator by Halfords is the most popular (and among the highest-rated) on the company's website. With an inflation time of 3 minutes, your tyres will be optimally pressurized in no time, and the automatic cut-off feature means you don't have to sit around watching it work. An an easy-read backlit digital pressure gauge (in three different units) make this inflator a great tool for routine pressure tests. With a 60cm hose and 3m cable you can easily reach all four tyres on your car, and the adaptor set means this inflator will work on most motorcycles, bicycles, and other inflatables as well. Going up to 120psi, this model will fully inflate virtually any tyre.
This model was praised for its high speed and efficiency, as well as its ease of use and reliability. At £39.99 this is about mid-range for the Halfords catalogue, and yet it easily out-competes most pricier models out there. Fast, compact, versatile, and straightforward, this may be the best tyre inflator sold by Halfords.
Summary
Some honourable mentions are the Halfords Digital Tyre Inflator and the Michelin Programmable Rapid Tyre Inflator. However, these are either more expensive, or not as efficient, as the items listed above. Combining great value with efficiency, compactness, and reliability, the tyre inflators listed here are sure to satisfy all your inflation needs.